Like I mentioned on our Facebook page, Tiger's been bitten by the art bug recently.
Here are some of the activities we did:
Painting with Glow-In-the-Dark paint.
Because normal paint is sooo boring
Just kidding.
I wanted to help him overcome his fear of the dark, so this was a fun way to do it.
Yes, this ELC paint worked and we painted in the dark for 30 minutes.
Paint: Sponsored by Ashleyprettimommy
Plastic bib: free with Pebeo hand paint set
ELC: First brushes and stampers set
Art easel: Fun & Cheer

Stamp a giraffe
If you are not so creative, like me, just get an art idea book and let the child choose.
Yes, there are tons of idea on the internet but we got a nice thick one from the Big Bad Wolf sale.
It is in the background for Tiger's referral since he wanted to make a giraffe.
He tried, but it ended up looking like a squashed yellow Furby.
Cue: Meltdown, Mama do, Mama do
Okay, okay
So, I painted the giraffe for him (looks like an elongated Furby)
A small cube sponge for stamping and voila!
A giraffe, I think....
Times like this, it is the thought that counts, so we gushed over his painting.
Bathroom art
Nowadays, Tiger awaits my arrival home from work eagerly.
So that he gets to 'play art' in the shower.
Can't share the pictures here cause of nudity issues and mama's still not so hot.
Gimme another 3 months....phew-weet....i can dream right?
We have tried painting with texture brushes, toothbrushes (papa's),
stamping with bath toys/ducks, water gun BUT his fav is this:
WATER SPRAY CAN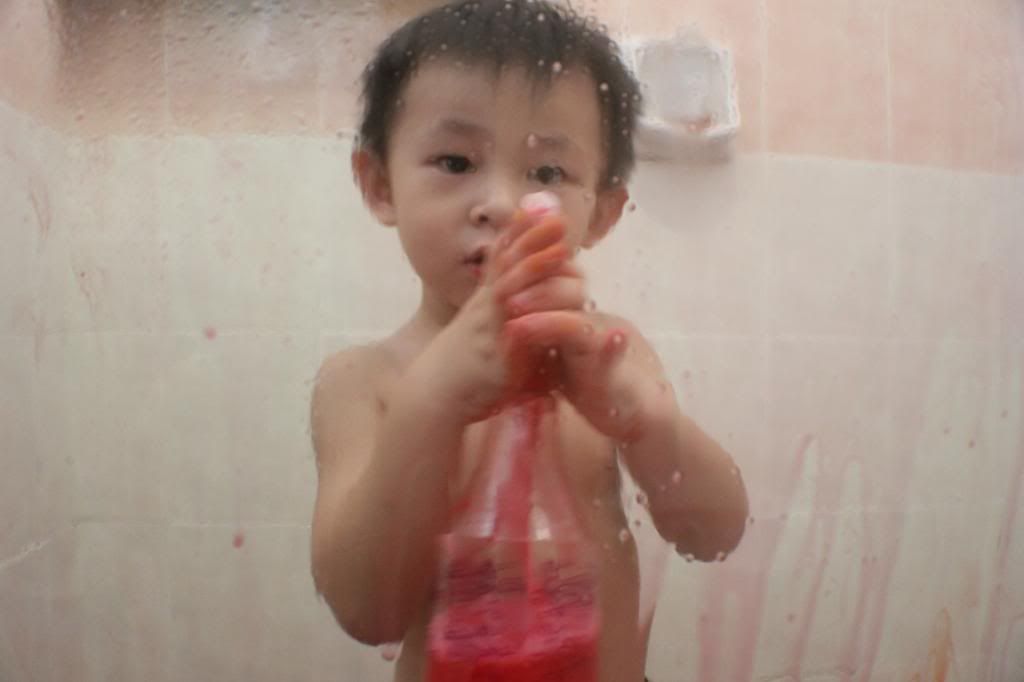 Water spray can: Daiso
Paint: Crayola Finger paint- diluted

Outdoor
Sidewalk chalk is fun on walls too.
Especially when you don't have lots of space.
Washes off easily with a spray of water. (very important)
He made: Raining, Thunder, Rainbow, the finally it was Fireworks.
Fickle-minded, this one.
Then, he helped with WEEDING
According to him that was fun too...hoohoo...we will see in another 5 years time.
Shirt: Pasar malam Oppa Gangnam
Chalk: Crayola
Potted plant: in need of fertiliser.