"Un"Schooling Little Tiger Week 4 (1st -8th August 2011) @ 13.5 months
Alphabet: D is for dinosaur
Theme: shape
s
Where's Spot (D is for dog too!)
Can put books back in basket/rack when instructed
J
Skip counting by 2. (I printed some mini dinos and stuck it to the Doman cards)
Dinosaur song (youtube) Love this!!
Consist of:
1. dinosaurs figurines
2. all shades of green pom-poms, porcupine rubber balls with small bowl for transfering
3. miniature trees (Tiger like this more than the dinosaurs!!)
4. dishwashing sponges
5. square and triangular pieces of not-too-small green corrugated, foam and plain papers
*Nothing too small to prevent choking as he still mouthing occasionally and teething
**Teaches rough & smooth, big & small, heavy& light, and just plain fun!!
Card for Jayden's birthday
Flashcard/Right brain
Homemade: dinosaurs
Birds
ESP
Linking Memory
Space memory
Animal Kingdom: Vertebrates
1.
Mini Knobbed cylinder (sensorial)
2.
Transfer egg onto palette (gross motor: palmar grasp)
3.
Inserting mini spoons into old raisin tin (pincer grasp)
4.
Melissa &Doug ABC blocks (stacking about 3-4 blocks)
5.
Puzzles: dog and numbers
Completed and loved Odonata: 1st book: Pai chiu (ball). Calls the character ge ge & jie jie
Shapes
:
Melissa and Doug Shape Puzzle
Printout from 1+1+1 for matching with various objects
World:
Country of the week:
Sing

apore
My ppt on Singapore :
here
Putting tiny 'car' sticker on country of the week
I am linking up to Carisa's Tot School. Do check out her blog for more ideas here:
www.1plus1plus1equals1.com/totschool.html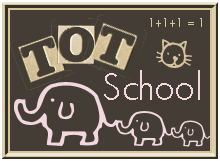 We have linked up to Our Country Road's pinterest Tuesday as well:
http://ourcountryroad.blogspot.com/2011/08/pinterest-tuesday-week-one.html
In case anybody's wondering where's Week 1,2 and 3 of Tot school, it's not available as I didn't take any photos. Haven't decided to share Little Tiger then :)
If you have any questions or suggestions, just leave a comment or pm me.